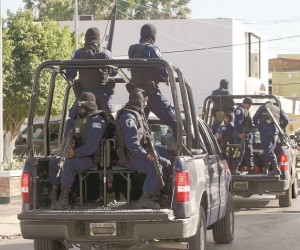 320 federal arrive in Tamaulipas
Federal Forces were deployed to various municipalities, which include the Marines and Military.
A contingent of 320 agents of the Federal Police arrived in Tamaulipas and began to be deployed in major municipalities throughout the state to strengthen the tasks of patrolling and fighting organized crime.
The arrival of the reinforcements strengthen the efforts of the state government at a time when troops of the Army and the Navy tightened the siege against criminal groups in the Tamaulipas border, leaving a balance of 18 criminals killed in the last week.
The arrival of the elements was formalized yesterday at the meeting of the Coordination Group led Tamaulipas Governor Egidio Torre Cantú.
At that meeting, it was reported that from the 1st of January to 17 of March this year, three bands of kidnappers have been located and dismantled in an unprecedented effort of corporations that make up the Coordination Group Tamaulipas.
To that number 21 bands have been dismantled since it was activated on May 13, 2014, the second phase of the Security Strategy of December 31 of that year are added.
In 2015, a total of 26 kidnapping gangs were taken out of circulation by the Security Strategy, 248 victims were rescued.
Of May 13, 2014 to March 17, 2016, 708 kidnap victims have been rescued, 50 gangs have been dismantled as well as 287 kidnappers.
> Statistics from May 13, 2014 to March 17, 2016 security strategy in Tamaulipas.
50 kidnapping gangs dismantled
708 people rescued kidnap victims
287 likely kidnappers have been arrested